If there's one charitable organization that has been kicking butt and taking names with online fundraising it's Charity:Water.
Launched seven years ago by twenty-something Scott Harrison, the NGO dedicated to drilling wells in impoverished communities around the globe has raised more than $100 million dollars, garnered 313,000 likes on Facebook and nabbed scores of celebrity endorsements and corporate sponsors.
They've done it all with unflappable hipness and massive appeal to the millennial generation, who serve as the organization's foot soldiers.
Harrison himself attributes his fundraising success to his obsession with branding and innovation, and thinking more like a tech entrepreneur than a nonprofit.
Whether or not "hipness" is something your organization aspires to, Charity: Water is a great resource for ideas and inspiration. They have created an engaging, moving and beautiful interactive experience with their online community that is almost unparalleled in the nonprofit world.
How Charity:Water Excels
1. Branding
Branding: Nonprofit organizations sometimes get a little skeeved out by the concept of branding and selling themselves as a "product." You're a serious, dedicated organization with depth and substance, why do you need to design and package yourself?
Well, because you are just one of a thousand nonprofits clamoring for support in a cacophony of horn tooting. If you don't sustain a high, clear note, you'll never be heard.
Like it or not, image matters. If an organization presents a clean, modern, straight-forward and elegant image through graphic design, people tend to transfer those judgments to the nonprofit itself.
Regard Charity: Water's logo-bold, clean, uncluttered graphic featuring a simple rendering of a yellow jerry can, a vessel used to haul water by hand in many parts of the world. These same principles-bold, clean, uncluttered-guide all of the design considerations on their website.
Charity: Water further enhances the status of their brand by partnering with already respected products (Votivo, Soma, Pure Fix cycles to name a few) and asking them to design a Charity: Water line or item, from water filters, to iphone cases, to hoodies. All profits from the purchase of these products go directly to fund water projects.
Sample Charity:Water Products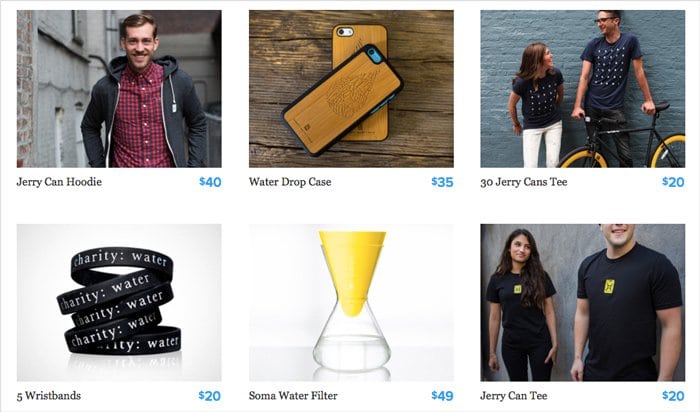 So in one fell swoop their online store hits fundraising, advertising and branding.
2. Design
All aspects of Charity: Water's online presence – from website design to their photos and videos, to the branding of their social media platforms – are simple, clean and visually appealing.
The front pages of the website display beautiful, bold, poster-like images with the bare minimum text to convey vital information. The website also functions beautifully – with simple, intuitive navigation.
Prominent on the first page are various calls to action (Sponsor a Water Project / Start a Campaign / Learn About the Water Crisis) and a donate or campaign button – both of which lead to a stand-alone page with the same bold, visual aesthetic and simple instructions.
Also note the use of infographics to relate core information and visually isolate different points.
Simple Charity:Water Infographics
Lest you think their website is all eye candy, keep clicking. Charity: Water uses a pyramid structure for conveying information with the top pages of the site light on text and the subpages more dense. This allows visitors to go deeper as needed.
In an interview with Forbes magazine, Harrison extols his creative directors for "making beautiful things online that people want to click on, and videos people want to watch…I believe our focus on design has been key to our success."
Which leads to our next heading.
3. Compelling Images and Storytelling
Charity: Water nails storytelling through both video, written text and curated images. They are confirmed YouTube fiends, posting a new video almost every month.
They've also dedicated an entire page of their website to the spinning of personal, heart-warming, positive-outcome stories.
If you scroll down the Stories page you'll see that they're not just rehashing the same story over and over. They try to capture as many angles of impact as possible—from the life of women like Helen who've felt liberated by having easy access to clean water, to the story of Asharfi, a local man employed servicing and fixing wells in Uttar Pradesh, India. These examples give concrete, human appeal to their work and allow donors to connect with the people they're helping.
Charity:Water generally maintains an upbeat, positive tone through all of their narratives.
"We're passionate, optimistic and hopeful people, and I hope that's communicated through the images, videos and stories we share with our supporters."

– Scott Harrison, Charity:Water Founder
4. Appeal to Millenials
Remember that checklist of traits that millennials tend to hold dear when it comes to charities? It goes something like this:
Transparency
Authenticity
Tangibility
Quality of online experience
Engagement with a greater community
Opportunity to contribute beyond money
It's no surprise Charity: Water is off the charts with Millennial appeal (it's easier when the founder is a young-ish buck himself).
Here are just a few of the things they're doing to build their street cred:
List GPS coordinates for every well dug and r

eport on failures as well as successes

Build a huge volunteer infrastructure with opportunities ranging from whole hog involvement to light support. They offer international field assignments, office internships (note their tagline: "Our Interns Don't Fetch Coffee") as well as opportunities to engage on a task-by-task basis.

Grow social media based communities so supporters feel connected to each other and something larger. Aside from the usual Facebook and Twitter feed, you can join a special Charity: Water Facebook group or, if you live in New York City, connect with other supporters interested in Charity: Water face-to-face through Meetup.

Innovate the nonprofit business model. 100% of Charity: Water's donations go directly to projects in the field. This may be one of the most radical and appealing aspects of the organization to millennials who tend to be cynical about institutional skimming. How do they do it? Charity: Water's entire operating budget is privately funded.

Stay on top of technology shifts. Charity: Water appears almost everywhere millennials are at en masse. 
5. Multi-Channel Prowess
Along with a bang-up website, Charity: Water is also making mincemeat of Facebook, YouTube, Twitter and Pinterest. Here's what they're doing on each of those platforms to stay engaged with their supporters.
Facebook. Charity: Water updates their Facebook page almost every day with image-heavy content. Most posts are photos or videos of people whose lives have been changed by a Charity: Water well. They also post various links to media articles about their organization, announcements for fundraising events, new products available in their store, and new posts on their blog.
YouTube. Charity: Water makes videos out the wazoo. Take a few minutes to check out their YouTube channel and see how they deftly use video to tell stories about their beneficiaries and themselves, to hype specific campaigns, and to thank particularly generous donors. 
Twitter. Aside from maintaining a strong presence on Twitter, Charity: Water also holds the distinction of being the first beneficiary of a massive Twitter fundraiser or "Twestival." Organized by one of their supporters, the 2009 Twestival mobilized Twitter-uses from 200 cities around the world to host a live Charity: Water fundraising event on the same day. The effort was so successful (raising over $250,000) that the "Twestivals" have now been formalized on Twitter to assist other nonprofits. This is just one example of Charity: Water bringing masses of people together with a relatively new social platform in new and innovative ways.
Pinterest: Charity: Water is killing it on Pinterest, where they've established ten different boards around distinct themes including: Photo Of the Day, Creative Fundraising (spotlighting individual supporters' fundraising campaigns), Videos, Charity Water Gear, Snapshots from Field Trips, Spotted (photos of people wearing their gear), World Water Day, Products We Love (Staff picks) and Specific Campaigns such as their Water Changes Everything Campaign. Charity: Water has great photographers, so their pins are always gorgeous.
6. Online Fundraising
With this kind of massive presence on social media and a large, engaged community of supporters, it's no wonder that Charity: Water is raking in contributions online. But they don't simply ask for money. Charity: Water applies their innovative genius to campaigning so that participation is fun, challenging and rewarding.
Check out their annual September Campaign, where they ask people born in September (founder Harrison's birthday month) to forego birthday gifts and ask friends and family to donate to Charity: Water instead. Essentially, they enlist hundreds of people to initiate their own campaigns; Charity: Water is merely the ringleader.
Running with the birthday theme, they also set up an ongoing birthday pledge campaign, tailored to the large chunk of us who are procrastinators with good intentions. You agree to start an online fundraising campaign on your birthday (they'll send an email reminder) and then go back to your busy life.
Take-Aways
Charity: Water is clearly having fun and it's infectious.  What's the take-home message from Charity: Water's success?
Look sharp, be creative, build community and always engage people around your mission.
Recommended Reading